Our Story - Alan Drew & Lisa Guthrie - Join us on our Adventure!
Alan first felt the pull towards an artful life as a young man working on the great old ranchos in Carmel Valley. Owned by refined gentlemen; worked by talented men who held the secrets of the The Vaquero. Alan learned a great variety of Vaquero skills by some of the West's finest men including Bill Dorrance & Bud Vierra. He even tried his hand at oil painting through the guidance of famed western artist, Jack Swanson. All celebrated hard earned skills, craftsmanship & style. The ethic, history & authenticity of cowboying led to a life-long passion to craft beautiful works inspired by historic techniques.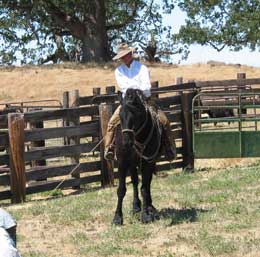 Lisa Guthrie & Alan Drew grew up in Carmel Valley, California each with a passion for the land, nature, horses, art and the vacquero traditions of old California. Lisa spent 12 years collaborating on the creation of Santa Lucia Preserve, a 20,000 acre Mexican Land Grant Rancho which today protects 18,000 acres of private open space with just 300 homesites where she was the founding Broker and Director of Clubs & Services. Alan joined The Preserve team to established the world class equestrian center and imprint a sense of adventure on this remarkable community. The Preserve is where their lives came together. Lisa & Alan embrace their partnership of a lifetime, enjoying their work and adventures together.
The blacksmithing spark was ignited while working on Rancho Real des las Aguilas, a Land Grant Rancho, where Alan discovered the Blacksmith Forge that had been used for a hundred years to make everything needed for the operation from horse & oxen shoes to hinges & tools. The history was fascinating and the possibilities were endless. Today, Alan still makes many of his tools in this historically inspired style. Alan designs and forges the gallery's metalwork at the blacksmith forge in Marina CA, just a few miles up Hwy1 from the Gallery in Carmel-by-the-Sea, he sources other artist's work to fill the gallery as well.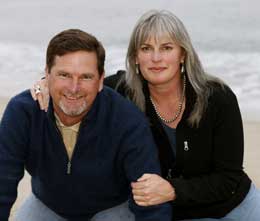 Lisa continues to represent Buyers & Sellers in Real Estate as a Broker Associate of Sotheby's International Realty in addition to working with the Gallery. Most days, Lisa can be found at the Borroméo Forge Gallery serving clients & visitors in their quest for finely crafted artisan-metalwork as well Real Estate at the Santa Lucia Preserve and the surrounding Monterey Peninsula. Ace the Cardigan Corgi works patiently in the Gallery after each morning's hiking adventure.